Our Place
This is our place ~the old folks of the farm~ Charles and June. I hope you'll visit us often!
Tuesday, March 30, 2010
Sepia Scenes~Mar 30, 2010 ~ 'Mom's Fountain'
~~~

Sepia Scenes





*Go here* for more SS posts!

~~~

'Mom's Fountain'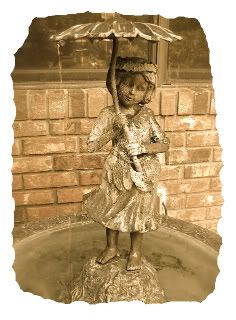 Labels: Meme, our place, Sepia Scenes, water
Sunday, March 21, 2010
Sunday, March 14, 2010
SNAKE!!
~~~

As I was preparing dinner late in the afternoon, my husband surprised me in my kitchen with this snake !




Our daughter-in-law, Joy, was doing some gardening chores, getting ready to plant flowers later this week. She was startled to meet-up with this Black Racer as she was pulling out weeds!

She called for help from Charles and he caught it! lol- He had to show it to me...and to prove how brave I am I HAD to hold it for a quick minute!

The poor snake was probably more upset than we humans were!

We soon let it go in the meadow in our side yard!
I will probably meet this guy again during spring and summer-as his new home is where my wildflowers will soon be blooming !!